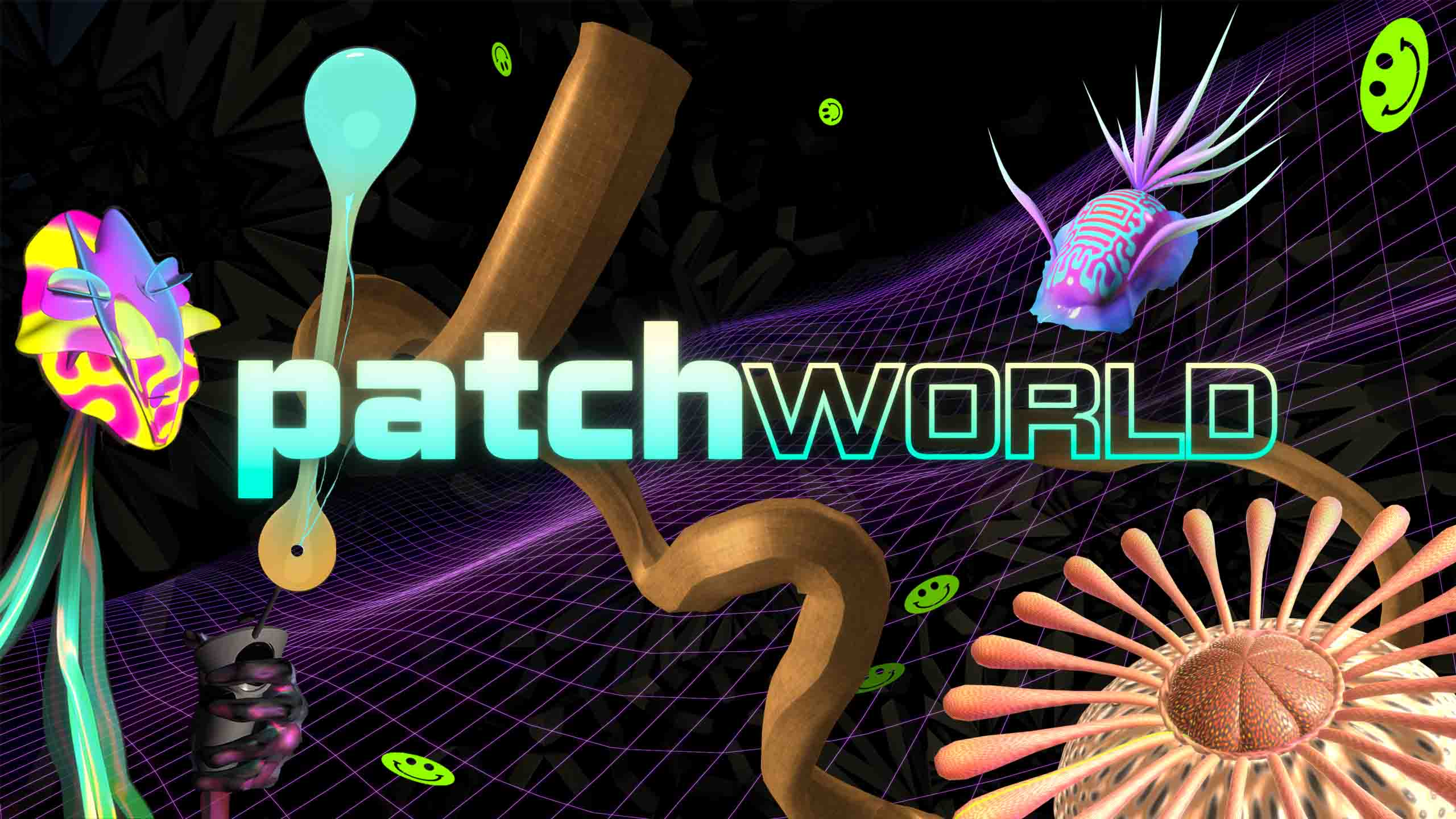 PatchWorld: Play and create Interactive music worlds
An upcoming collaborative music sandbox native to VR, from the immersive media experts of PatchXR.
---
Developer:
PatchXR
Based in:
Zurich (CH) and Copenhagen (DK)
Release date:
Summer 2022
Platform:
Meta Quest 2
Website:
https://www.patchxr.com
Regular Price:
TBA
Press / Business contact:
Press@patchxr.com
---
Synopsis
PatchWorld empowers musical experience with fantastic worlds, fanciful instruments, and full-immersion live shows. It combines the visual experience and play of gaming with the emotional power of music. It's ready to play from the moment you enter - but deep enough to let you build everything you can imagine.
Music is diverse and imaginations want to run wild, so our technology is built for collaboration and limitless possibility.
PatchWorld is an open-ended world-builder. Dig into a complete collection of interchangeable blocks that power gesture and interaction, generative music machines and pattern makers, sound processing and stompbox-style effects, animation and visuals. Or if you just want to relax and play around, enter our growing library and load up user content or an EP - audiovisual albums you can enter interactively.
For the first time, you can make rich, fully-customizable worlds without needing your own personal visual effects house - it's like stepping inside a futuristic music video. You create for VR inside VR, meaning working in three dimensions is more intuitive. And since it's all live and playable, you can perform, improvise, and jam. In an age when music makers' vision can get lost in faceless streams, PatchWorld lets you express yourself and produce media for VR, live streams, and even live shows, with high-performance 3D visuals and spatial sound, even on just a standalone Oculus headset.
Features
Access an array of powerful, production-ready features - in a platform that's as playful and easy as a game:
Build and share musical worlds in the metaverse, without any coding, for free
Fully modular framework - start with pre-built worlds or create custom instruments, visuals, and gestural interactions
200+ blocks for endless creative options
3D environment and sound assets to get you started
3D spatial audio and stereo mixing
Access Patch from Quest standalone headsets - lowering the bar to entry
Explore awesome musical creations made in Patch and interact with the growing community of Patchers worldwide.
Tutorials to learn about sound and how to build your own music worlds and electronic music instruments
Record loops of your avatar performing in 3D space to become a full band
Connect your virtual world with your usual setup using MIDI and OSC.
---
Videos
Pre-release trailer

Jam in Bouncy Beats (EP2)

Jam with pans in the RainMaker (EP3)

Community creation made in Patch

Techno live set made in Patch

---
Images
---
Logo & Icon
---
Articles
PatchXR turns writing music into a Metaverse VR experience where you can shape your music and visuals Musictech (2021)
VR becomes a fluid medium, a music video you can play, a playground in patchxr patchathon CDM (2021)
Worlds as instruments, as artists collaborate in VR using modular metaverse Patch CDM (2021)
PatchXR opens the world of music to extended reality Makery (2021)
PatchXR for Gig Life Pro Giglifepro (2020)
PatchWorld selected for Swissgame showcase Startupticker (2021)
Abbey Road Red 10 to watch in 2021 Abbey Road (2021)
About PatchXR
PatchXR is a multinational studio blending unmatched experience in art, engineering, and sound and music for VR. The team has some of the world's top talent in the emerging medium of immersive, generative, interactive music for full-sensory virtual reality. That lineage starts with co-founders Melodie Mousset and Eduardo Fouilloux, building on Melodie's award-winning achievements in VR art and Eduardo's pioneering work at Animation Studio Denmark and creating the music game prototype MuX.
Now, PatchXR has assembled a global team and a powerful, complete, ground-up engine for VR music, sound, and play. We've tested our tools with diverse artists from around the world in closed beta and our Patchathon collaborative experience at top festivals. With that bespoke foundation and world-class experience in multiplayer experience and tech, we're envisioning new, futuristic ways to play together with music, engaging the full body with vision and sound.
More information
More information on PatchXR is on our website, our logo & relevant media are available here.
For news and updates on PatchWorld, here is our blog
---
PatchWorld Credits
Management
Executive director Eduardo Fouilloux
Art director Melodie Mousset
Product owner Gad Barush Hinkis
Operation manager Nicholas Borkowski
Business and product strategist Carlos Miramontes
Production
Technical lead Victor Beaupuy
Engine architect Aleksey Sarapulov
Platform architect Jonah Fox
DSP engineer Pelle Juul
DSP engineer Maciek Sypniewski
Unity generalist Tom Frackowiak
Simulation Artist Marta Stražičić
Communication
Community development Peter Kirn
Web developer Daniel F. Wehleit
Marketing and PR Mike Romo
---
Inquiries
Facebook
https://www.facebook.com/patch.xr/
Insta
https://www.instagram.com/patch.xr/
Linkedin
https://www.linkedin.com/company/patch-xr/
Web
Hashtag
#PatchXR
#PatchWorld
#MadeinPatch
#SoundOfTheMetaverse
#BuildSound